Transaction Coordinator Checklist for Real Estate Agents: The Expert Guide
Managing a single real estate transaction from listing to closing is no small task—in fact, it's hundreds of tasks bound to strict deadlines and legal requirements.
For many top-producing brokers and real estate agents, the most effective way to manage their transactions is by hiring a transaction coordinator.
A transaction coordinator ensures an efficient and organized transaction process using precise workflows and checklists.
They use effective time-saving processes that often take years of experience and practice to develop.
They can help your real estate agents provide an exceptional experience to buyers and sellers.
With the right system (and an expert's knowledge) any transaction coordinator, brokerage, or team can start using accurate workflows and checklists to shave time off the closing process.
Before you can begin developing or refining an effective system for managing and coordinating transactions, you first have to evaluate your company's current ability to track transaction timelines.
This includes:
Due dates
Contingencies
Required documents
Reminders
Is Your Real Estate Company Coordinating Transactions As Well As It Could Be?
If your brokerage is disorganized it could lose time searching for lost paperwork. This could lead to crucial missed details and poorly managed deals.
For many real estate companies, these problems often stem from undefined processes or reliance on paper checklists and ad-hoc systems.
These types of coordination processes use unclear workflows that few people can follow, and lead to more work for everyone involved.
The lack of structure in transaction management limits the opportunity for company growth and leads to frustrated clients and even legal penalties.
Unfortunately, problems that stem from inefficient systems are common because developing new and effective workflows can feel like a daunting task.
In response, many real estate offices use the same confusing paper checklists and manual processes to get the job done.
It becomes increasingly challenging to ensure consistency, compliance, and satisfaction in the long term.
The Solution: An Automated and Customized Real Estate Transaction Coordinator Checklist
Specific checklists and workflows for any deal scenario allow your real estate agents and admins to:
✔️ Automatically see only the necessary tasks
✔️ Make contact information easily accessible
✔️ More clearly organize deals
✔️ Better categorize relevant paperwork
✔️ Quickly view transaction status information whenever they need it
Setting up new systems will ensure that all transactions are consistently and appropriately managed to help everyone involved in the deal.
This guide will teach you how to create checklists that are used by the top real estate transaction coordinators.
Whether you're a new real estate transaction coordinator looking to develop real estate checklists for the first season or a brokerage looking to build precise checklists like the pros, start with this guide.
How a Real Estate Transaction Coordinator Checklist Can Give You the Edge
The ultimate tool for coordinating real estate transactions and ensuring that every requirement is properly fulfilled is more than a written list of tasks.
Although there are generic templates that you can search for and download from the internet, none are specific to the exact real estate transaction that your agents will close.
These free templates may be easy to find and free to use, but they do have limitations. Often you will spend more time trying to figure out what you don't need, compared to what you do.
With an electronic checklist you can:
✔️ See which transactions are missing essential documents.
✔️ Easily monitor which contracts and other required documents are missing or incomplete.
✔️ Never miss a critical due date on any transaction with priority labeling and easy filtering.
✔️Automatically sync transaction due dates with your favorite calendar system and receive automatic reminders about upcoming tasks.
✔️ Let the system set important due dates based on business and calendar days before or after listing and closing dates, contingency dates, options dates, and more.
✔️ Use message templates and tags to keep your agents informed with important transaction updates.
While a list of every document required to close a transaction is vital, this alone will not meet the needs of the busiest brokerage or real estate agent.
An electronic platform enables you to go beyond just marking off completed steps or items received. It allows you to meet clients' needs and stay organized.
Use Purpose-Built Systems for Ease & Effectiveness
Many checklist systems are afterthoughts to products or features built by engineers who have never worked in the real estate industry.
Systems like these generally cause frustration for those that need accurate and specific workflows for their real estate transactions.
On the other hand, if your workflows and checklists are part of a system intentionally designed for the transaction management process, your essential tasks will be precise.
This ensures you have everything you need and makes it easier to find and retrieve documents and information when you require it.
Customize to Suit Your Needs and Requirements
Different types of real estate transactions each have their specific requirements.
This is why an electronic tool that supports transaction-specific customization will help you to develop and refine unique checklists.
You should also ensure that the system allows for critical due dates, contingencies, milestones, options for automated deadlines, and more.
Manage Transactions from Anywhere
It's essential to think about where your team might use the checklists and systems that you develop.
As real estate professionals, your agents often work and process documents away from the office.
An electronic checklist that can be accessed from anywhere (and at any time) allows agents to input information that busy brokers, admins, and transaction coordinators can reference as they need it.
In the next section, we discuss best practices to help you create workflows and checklists for every stage and type of deal.
If you're not currently using a system, check out our real estate transaction management software to make this process even easier.
Create Expert-Level Transaction Coordinator Checklists in 4 Steps
Step 1. Define the Stages of Your Real Estate Transaction Process
Start by writing down how a typical transaction moves forward and what may throw it off course.
It's often helpful to think about this in terms of the deal stages or the transaction statuses.
Listing deals may follow a similar flow, but they might look a little different depending on your location, style, and preferences.
Next write down other stages that may be less common, but may still require additional action. In other words, consider those stages where something changes the course of the deal.
Once your stages are fully mapped out, you can create them in your Paperless Pipeline account as transaction statuses.
Customizing your transaction status will help transaction coordinators, admins and agents move deals from one stage to another without confusion.
This will also allow the system to automatically apply checklists with appropriate and necessary tasks.
Learn more about adding transaction statuses here.
Step 2. Identify the Types of Deals
Although deal stages are critical, it's also necessary to focus on the types of deals that you're likely to coordinate and manage.
You may not run every possible kind of real estate transaction.
However, it's important to outline the transactions that you use often to ensure that you account for all the necessary tasks, documents, and requirements.
After you've identified the types of deals that your agents are most likely to encounter, you can add each to your Paperless Pipeline account as transaction labels.
Adding these specific transaction labels will ensure that the unique requirements of each deal are added to your transactions.
Learn more about adding transaction labels here.
Step 3. Write Down the Tasks and Dates Required for Each Situation
Using the list of dates you created earlier, write down all the administrative tasks that need to happen before, during and after each step.
From staging and putting up the sign to creating a commission disbursement and collecting funds, think through every step carefully.
Step 4. Create Your Checklists
After you have added your custom statuses and labels, you will need to match specific tasks for each variation.
Start with the most common or straightforward type of deal and stage progression.
Here's a typical example:
A purchase of a residential (post-1978) property that doesn't fall through, and does not have a septic system, well, pool, or HOA requirements.
With that deal in mind, outline every task and document required for each stage of the deal.
For example, you may include:
Listing documents
Communication requirements
Option periods
Due diligence deadlines
Once your first transaction coordinator checklist is built out, you can then copy that checklist and use it as a template.
Add new tasks to your template for other conditions, such as a lead-based paint addendum.
Make a copy of that checklist and add well and septic documents, along with any specific tasks for deals that require those additional items.
By making copies of the original checklist and adding what's required, you will soon develop a list of tasks so specific that you can easily automate the process with Paperless Pipeline.
By setting up rules in your system, you can seamlessly have a Pending Task checklist apply to a condominium deal in Houston, where your agent represents the listing side.
Or a Pending Task checklist can be automatically applied to a pre-1978 residential transaction that also has a pool and a well, where your company represents both the listing and buying side.
Need More Help Managing Your Real Estate Transactions?
At Paperless Pipeline we're real estate transaction experts. Our software and support has helped thousands of transaction coordinators work more efficiently and close more deals.
Over the years we've produced many transaction coordinator guides like this transaction coordinator checklist. You might find the following resources useful:
Free Real Estate Transaction Management Spreadsheet
This free real estate transaction management spreadsheet helps you organize your real estate business. It will help you:
Manage transactions
Keep track of key dates
Quickly and easily add key data
Filter your transactions by key areas
Get an overview of the most critical data
How to Manage Critical Real Estate Transaction Dates
This guide explains which dates are most critical to the real estate transaction process, how you can more efficiently track those dates, and how to easily share them with agents, clients, and other people involved in the transaction. 
5 Steps to Simplify the Real Estate Transaction Process
This guide walks you through best practices to help you improve and streamline your real estate transaction process. You may not need to follow all five, but implementing the right steps for your company and process can help substantially.
10 Ways to Save Time Managing Real Estate Transactions
No matter what size company you manage, saving time is always essential. This article provides 10 ways to save time with your real estate transaction workflow.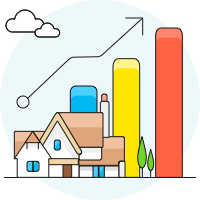 Ready to simplify your process and delight your agents?
In less than a minute you can start testing the newest features built to help your entire office close more deals. It's simple, powerful, and 100% free to try without a credit card.
Try it free →