How to Manage Real Estate Offers
Quickly and easily manage all of your real estate offers in one place.
In a housing market that is facing record low inventory and fierce competition amongst buyers, multiple-offer situations have become the norm for cities across the U.S.
At Paperless Pipeline, we work closely with brokers and agents who are experiencing firsthand just how cutthroat this market can be. There have been a number of contributing factors behind this, including an influx of buyers looking for more space during the lockdown months of the COVID-19 pandemic, attractively low interest rates, and a demographic shift of millennials entering the home-buying market. Pair that with a tight supply of existing homes, and it comes as no surprise that new listings could receive multiple offers and sell within days (or even hours!) of being listed.
With this redhot market showing no signs of letting up, there has never been a more critical time to ensure you're managing real estate offers in the most efficient way possible.
What is a Real Estate Offer?
A real estate offer, also known as a purchase offer, is the first formal communication between a buyer and seller that can ultimately lead to the final deal between the two parties.
An offer will contain the amount the buyer is willing to pay, any specific terms of the buyer, a target date for closing, how additional costs will be covered, contingencies, and amount of earnest money deposit accompanying the offer—just to name a few.
After the offer is created and signed, it will usually be presented to the seller by the buyer's agent, the seller's agent, or by the two together.
If you are an agent managing multiple real estate offers at any given time, it's important to have a process in place in order to stay organized, productive, and efficient.
If you're a current customer of Paperless Pipeline, or even in a free trial—here is how you can easily begin managing your real estate offers.
How To Manage Real Estate Offers with Purpose-Built Software
The most efficient option for high-producing agents looking to manage offers is to use software designed specifically for the real estate industry.
With purpose-built software like Paperless Pipeline, you can quickly and simply create a transaction for your active buyers and have a central hub to store important documents such as offers, pre-approval letters, etc.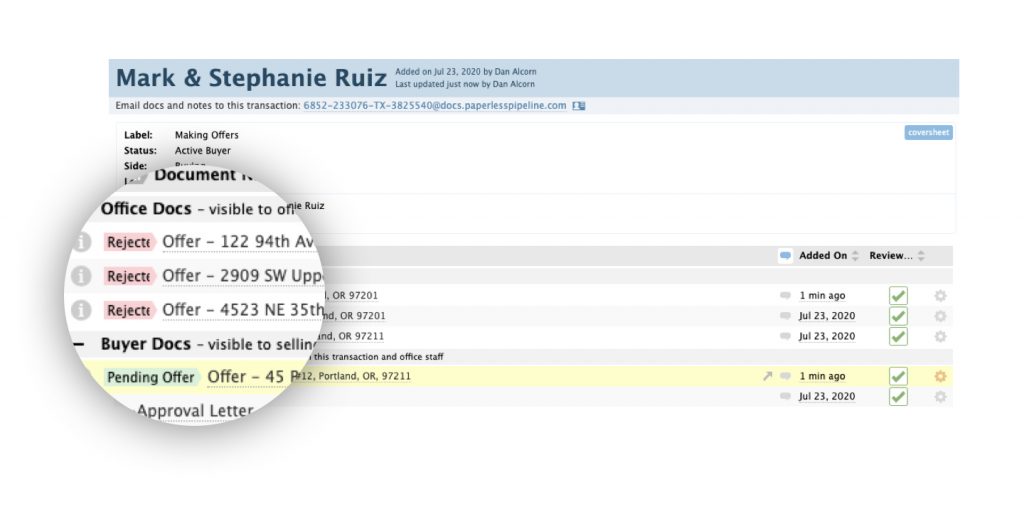 Offers or other docs can be seamlessly emailed to the transaction through the Maildrop feature, saving you time that would otherwise be spent manually transferring documents to folders on your computer.
You can also use this transaction to store your client's contact information, along with any notes specific to their wants, needs or requirements throughout their home-buying journey. Additionally, you can stay on top of all of your to-dos by creating a custom checklist with relative due dates to ensure nothing falls through the cracks.
If you're not currently using a transaction management software like Paperless Pipeline, there are still some excellent options for managing real estate offers through your personal tools or cloud-based storage systems.
How to Manage Real Estate Offers with Personal Tools
For agents who are just starting out, a great way to manage your real estate offers is through your own personal tools. One example of this could be your email platform, such as Gmail.
If communication with your client is already taking place via email, it may be helpful to create a folder within your Gmail account to store any rejected or accepted offers for that specific client.
A benefit of using personal tools (such as Gmail) is they are likely free or low-cost.
For higher-volume agents or offices, these tools will however make it quite challenging to scale efficiently.
How to Manage Real Estate Offers with Cloud-Based Storage Systems
Another option for managing your real estate offers is with cloud-based storage systems. Two examples of this include Google Drive or DropBox.
Within these systems, you could again create folders specific for your clients and their offers.
A helpful piece of advice is to stick with a standard file naming convention for all offers. An example of this could be LAST NAME_FIRST NAME_ADDRESS_DATE. This will allow you to quickly find the offer you need, without wasting time sifting through a bunch of files.
While a solution like this may work well for agents closing somewhere between one to two transactions per month, higher producing agents would undoubtedly benefit from a transaction management system built specifically for all of their real estate needs.
Curious to see if a transaction management system like Paperless Pipeline will be the right solution for you? Put it to the test during a 14-day free trial and see just how simple it is to manage all of your real estate offers.
How to easily manage your real estate offers in Paperless Pipeline